What's this? Two posts in one day? It must be holiday craziness. 🙂
I'm a little late to the party on this one, but I'm thinking about jumping into the "Christmas at Hogwarts" Magical Readathon, going on now. It started on the 17th and goes through the 26th.
I've decided that, since we'll have family in town for the holidays, and since I deserve a bit of a break after yesterday's book launch, I'm going to take some time off from writing to enjoy the holidays and some good books!
The task sheet for this readathon is part of what hooked me. It's super creative and modeled after the Marauder's Map. Honestly, how can I resist? She's even made versions in different colors (check out the video linked above for those), but I like the parchment style best.
The readathon tasks are decoded as follows:
Finish your coursework = finish your current read
Help Hagrid decorate the trees = book with a golden detail
Have a snowball fight with the Weasley twins = a book you think will be humorous
Visit 3 Broomsticks for muller pixie wine = a read that should only take you a day/evening
Exchange presents at your Common Room = read featuring/about friendship
Sneak into the kitchen to gift Dobby odd socks = read that has an item of clothing on the cover
Attend a Yule Ball = book you've been preparing yourself for
Fly around snowy Hogwarts grounds = building on the cover
Put on your knitted sweater from Molly Weasley = read with present parents or a focus on family
Use your Invisibility Cloak to get to the Restricted Section of the Hogwarts Library = read a banned book
Bring a festive treat to Hedwig at the Owlery = animal on the cover/title/series name
Attend the Christmas Feast = watch a Harry Potter movie (optional)
I am currently (and have been since the 17th) working on finishing Trail of Lightning by Rebecca Roanhorse. So, that's going to be my "finish your coursework" book. 
Then, I think I'm going to "help Hagrid decorate the trees" by reading a book with gold on the cover. I think there's enough golden hair on the cover of this one to make it count, right?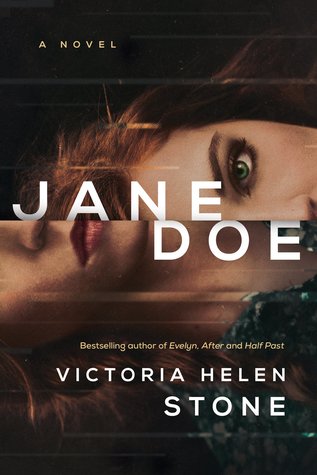 Can we agree that Jane Doe by Victoria Helen Stone counts? Please? Because I really want to read this next… I have more planned, but I'll keep those to myself for the moment and post when/if I manage to finish these two.
Are any of you participating in this Magical Readathon? If you need a "help Hagrid decorate the trees" book, might I recommend my novella, Vivian's Promise? It's a short, fast read and has a lot of gold on the cover…
Definitely let me know if you're participating, and tell me what you're reading in the comments. Happy holidays and happy reading!